ABOUT CIEL BERGMAN
Ciel Bergman, a.k.a Cheryl Bowers, is a well-known and accomplished Californian painter of large and sensuous canvases. She was born 1938 in Berkeley, California, the daughter of a couple deeply committed to the arts. First trained as a nurse, she lived in Europe before returning to San Francisco Art Institute in 1973 where she completed her MFA. She continued to paint and served as a full professor of art at the University of California, Santa Barbara. She has recently (1994) retired to a new home in Northern New Mexico, west of Abiquiu.
Her work is included in the collections of the National Gallery, Washington D.C., the Metropolitan Museum of Art, New York, the Oakland Museum of Modern Art, the Museum of Modern Art in San Francisco, the Newport Harbor Art Museum, and the San Diego Museum of Art.
Exhibitions (from 1968-1972)
"Mendocino Windows", Gallery West, Mendocino, California, 1968
Invitiational, Jack London Group Show, Oakland, California, 1969
Group Show, John Bolles Gallery, San Francisco, California, 1971
Ninth Annual Sculpture and Drawing Exhibition, Bellingham, Washington, 1972
Jacqueline Anhalt Gallery, Los Angeles, California, 1972
"Recent Acquisitions", University Art Museum, Berkeley, California, 1973
Davidson National Print and Drawing Competition, North Carolina, 1973
National Drawing Contest, Potsdam, New York, 1973
"Toys by Artists", New Museum of Modern Art, Oakland, California, 1973
Group Show, John Doyle Gallery, Chicago, IL, 1973
One person show, Malvina Miller Gallery, San Francisco, California, 1973
"Non-Aesthetics", New Museum of Modern Art, Oakland,
"Christmas Show", San Francisco Museum of Modern Art, San Francisco, CA, 1974
Achanbach Invitational Drawing Show, California Palace of the Legion of Honor, San Francisco, CA, 1974
MFA Show, San Francisco Art Institute, San Francisco, California, 1974
John Doyle Gallery, Paris, France, 1974
Biennial, Whitney Museum of American Art, New York, 1975
Smith-Anderson Gallery, Palo Alto, CA, 1975
"Interstices", University Museum, San Jose, CA, 1975
KQED Annual Art Auction, San Francisco, CA, 1975
SECA Grant Show, San Francisco Museum of Modern Art, SF, 1975
Exhibtion, Worth Ryder Gallery, Berkeley, CA, 1976
"Oakland Artists-New Work", Oakland Museum, Oakland, CA, 1976
"18 Bay Area Artists", LAICA, Los Angeles, California, 1976
Education
Santa Rosa School of Nursing, R.N., psychiatry, 1956-59
Figure painting, studied with Peter Blos, 1964-67
Painting, woodcut, serigraphy, studied with Vincent Perez, 1965-67
Extended conversation with Georgia O'Keeffe, 1972
Audit graduate seminars, University of California, Berkeley; Peter Plagens, 1972; Robert Hudson, 1973
San Francisco Art Institute, M.F.A., painting, 1973

Personal statements of Ciel Bergman
"Paint is liquid matter and therefore the limitation on its use is the human imagination, having experimented freely in my earlier years, I find I am fundamentally interested in what paint, wielded as its has been for centuries, can still communicate. I utilize traditional materials and techniques: oil paint, linseed oil, wax, liquin, turpentine and various additives: underpainting, building and glazing. I am deeply moved by the color of the world, my attention is constantly riveted by the wonder of , for instance, red paint, when it remains only the physical stuff on a surface or mysteriously shifts, transforms into meaning, the instant the brain registers recognition, 'ah, a rose petal' or a bloodstain of tissue. Where is the edge ?
I find it tragic to live in a culture where scientific imagination is applauded and artistic imagination is suspect, for they derive from the same search."
"Philosophically and politically, it is my opinion that one of the major tasks of the arts in the 21st Century is to relink culture and nature. Intellectually I reject Puritanism, dogmas of any description, hegemonies and systems, which suppress independent thought or dictate, mass response and mass behavior. Intuitively, I fell too much has been discussed and written about painting in this century. There are those of us who need to paint and those of us who need to see paint is in me, a life-force; a metabolic result of my being. It is an essential vent for the intensity of the awe (beauty) and terror (horror) of being alive. It is also an ordering process whereby I might gift back to others, if I am true, a shared experience of the ecstasy of seeing. What drives my vision seems to be the need to locate a particular orientation, a 'genetically felt' space in which a simultaneous multiplicity of desperate realities coexist. And if I write that I am in search of an unknown - the deep feminine - I hope I will not be misunderstood. I feel my work may grow closer to silence and become more contemplative as I further mature."
"Cynicism, irony, sarcasm and related postures hold no interest for me. Rather, I am drawn to work which engages compassion, suggests the fragility of relationships in all forms, the organic, the simple and elegant, the raw and sensuous, the subtle and certainly the ineffable."
What others say about Ciel Bergman
".. the dark, seductive, moody, and potentially violent flowers of Ciel Bergman reveals areas of the female psyche that I've heard about but have never before experienced. Her landscapes, ..., with or without flowers, are memorable for their fluid pastel colors and strong composition.... Here is an artist on a spiritual journey, which we're invited to join."
- Edwin Goldman, "Art Talk"
"[Ciel Bergman] Cheryl Bowers has clearly taken her place with such established California painters as William Wiley, Fred Marin, Jay de Feo, Allan, Brown, Smith, Hudson."
- Charles Shere, Oakland Tribune
"These are paintings of hope, celebrating the world's beauty while confronting its darkness. There are wounds here, laid bare so that they might be healed, but there is also peace, resolution ... Flowers, especially the iris, have been growing in Bergman's garden of imagery for some time now. But never have they been painted with such force, positioned so unashamedly and given such prominence. Bergman's irises flirt with botanical accuracy, a tendency she quickly undermines with a gestural brush stroke here, an absent detail there.... By bathing us in the light of these beautiful canvases, Bergman assures that forgetfulness, at least, will be eliminated from our long list of excuses if and when nature is finally and irreversibly compromised. The work is a gentle but firm warning, turning our black and white world on its ear. It's a simple decision, really: life or death."
-Ben Marks, ArtWeek
"Ciel Bergman makes unabashedly beautiful paintings. Over the last decade, Bergman (formerly Cheryl Bowers) has come to be known on the West Coast as a painter's painter, an artist who relished the medium, its lushness, liquid color, and luminescences. Her penchant for coming up with surprising spatial appositions, simultaneous views not linked in reality but in the mind, allows for shifting perceptions within one painting. Yet it is the gestalt of this that counts.
What Bergman chooses to paint is fueled by her commitment to a dialogue on critical ecological matters. This is not art about art, fashion, or entertainment. Her sources lie within the surrealist's dream, the romantic's intuition and dynamism, the classicist's sense of order, and primarily the spiritualist's openness to forces that supersede individual fate.
In most of the recent paintings, collectively titled "Good Wild Sacred" (borrowed from the poet Gary Snyder), the heroine is a flower, the iris, not unfamiliar in Bergman's personality. Bergman pulls if off because the choice is not based on the flower's decorative aspects but on its ancient metaphorical power as goddess, restorer of hope, antidote to madness.
The chameleon like iris takes on several roles. In one painting, the blossom appears courageous, central, frontal, unfurling its petals like a proud ballerina poised before the dance of death, part enchantress, part priestess. In another work, the iris is a bud still wound tightly around itself, encasing its full promise, trembling and expectant."
Pamela Hammond, ARTnews
Destruction and discovery, two major themes that Bergman illustrates with her flowers, letting us know that the earth cannot pillaged without also destroying us.
Artwork listed for sale at galleries
Human Kind Cannot Bear Very Much Reality, 8' x 6' painting, value $18,000
Denial Of The Death of Imagination, 8' x 6' painting, value $18,000
Soul Stretched Tight Across the Sky, 7' x 5' painting, value $16,000
A Single Flower Can Live For Centuries In The Ocean, 7' x 5' painting, value $16,000
Safe Nuclear Production Is An Oxymoron, 32.5'' x 25.5'', value $2,000
Neither Purity Nor Impurity, 32.5'' x 25.5'', value $2,000
Flowers of Ciel Bergman: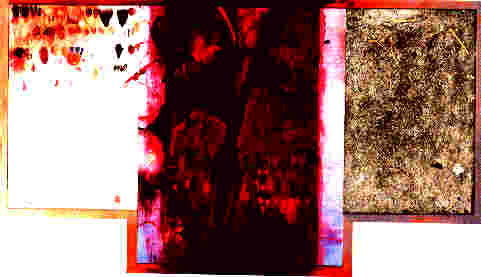 Flowers in red - higher resolution picture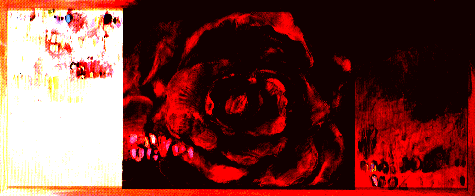 Flowers in red II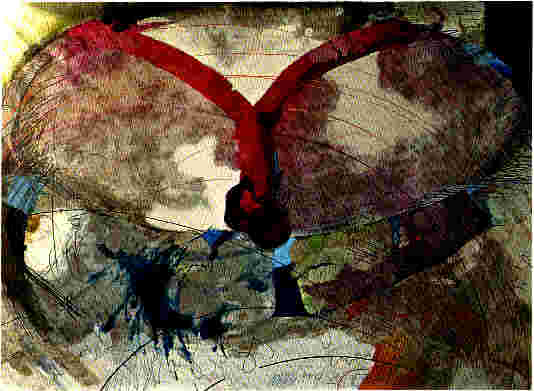 Memtoon, large canvas higher resolution picture