Pablo Cucaro, oil on canvas, 'California Seashore', 18 x 24 in., 1960
Pablo Cucaro- (1915-) Sausalito, California is a very well listed artist. Cucaro was once considered to be the 'Picasso' of California. He is known for his scenes around the San Francisco area and his paintings of circus scences.
Title: Californian Seashore
Size: 25" x 30"
Pat Cucaro, 1960
The piece 'Seashore' is oil on canvas, in very fine condition with a beauticul frame (has verly little damage underneath, invisible by contemplating the work. This 'seashore landscape' was painted around 1960 according to Cucaro himself. It measures 18 x 24 in., with frame: 25 x 30 in.
Frame: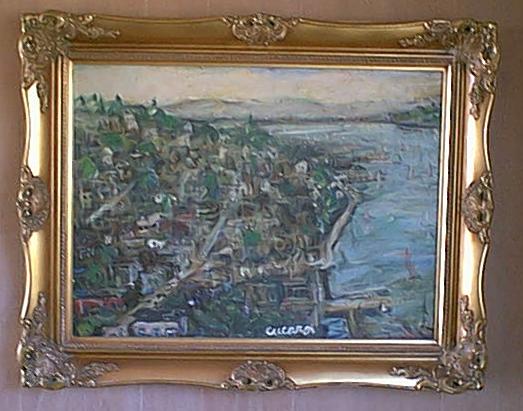 There is a book about Pat Cucaro. This autobiography with more than 40 of Pat Cucaros finest paintings as lithographs (a really rare book, Library of Congress Nr. 70-97895) with a pastel painting and a signature by Cucaro himself (!!!) in the interior will be offered with the painting.

last modified 4/15/01, copyright 1999-2001 by Marco Ziegler